Established in 1989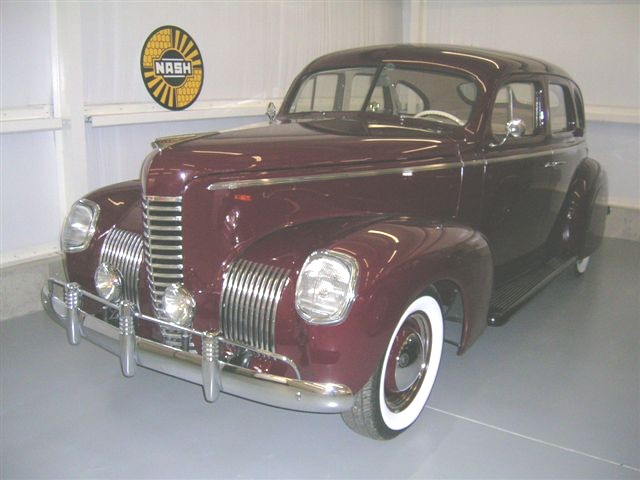 1939 Lafayette Special
234.8 flathead six and 3 speed manual transmission. Very nicely equipped with overdrive, column shift, Weather-Eye, deluxe master bumper guards, driving lights, white wall tires, trim rings, deluxe steering wheel and chrome exhaust tip. Some safety items such as L.E.D. tail lights, brake lights, parking lights and turn signals, along with Halogen head lights were incorporated during the complete ground up restoration. It was finished in '05 after a year and nine months and it has been driven to Nash Club meets from the Boston area to the San Francisco area and many in the mid-west. It cruises comfortably on the Interstates at 65mph. The trip to California in '09 with my parents for the NCCA Nationals was fantastic. With Dad as co-driver and Mom handing out cold drinks and snacks we made the 4,800 mile round trip in 4 days going out and 4 days coming back.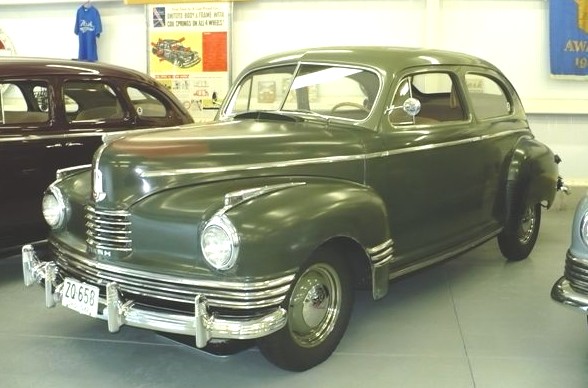 1942 Ambassador 600
172.6 flathead six cylinder, 3 speed manual transmission with overdrive, Deluxe exterior package which includes: deluxe bumpers & guards, chrome fender trim, front fender lamps, license lamp wings, chrome window trim, chrome running board moldings, Deluxe interior package which includes: chrome door trim, garnish molding ornaments, wood-grained garnish moldings, engine-turned instrument panel overlays, clock, cigarette lighter, Deluxe steering wheel, floor mat carpet inserts and dual horns. Also equipped with Weather-Eye, trim rings, dual outside rearview mirrors, exhaust tip, two-tone paint—Shoal Green & Whaler Green, and optional 6.00-16 tires. Sold new in Charles City, Iowa, this is one of only about 30,000 1942 Nashes made. Production was about half of normal due to our entry into World War II. There are only 9 1942 Nashes listed in the Nash Car Club of America roster, and this is the only 600 2-door fastback listed. Original paint and interior.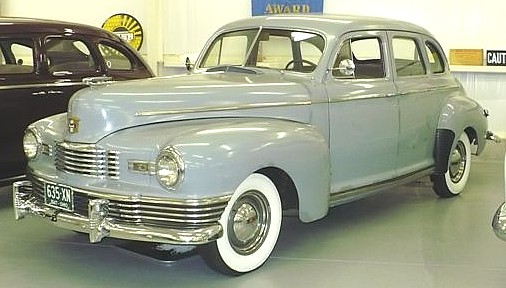 1947 Ambassador Super
4 door Trunkback sedan with 234.8 cubic inch overhead valve six and 3 speed manual transmission with overdrive. Nicely equipped with optional overdrive, Weather-Eye heating system, wide white wall tires, wheel trim rings and dual outside mirrors. The only trim level offered for 1947 was the "Super" and it was applied to all models except the wood bodied Suburbans. An Ambassador like this one was the Pace Car for the Indianapolis 500 on May 30th, 1947. It would be the only time that a Nash, Rambler or AMC product would enjoy that honor. With an overhauled engine and transmission and refurbished fuel and brake systems, it runs and drives beautifully. The 46-48 model years are some of the most popular with members of the Nash Car Club of America. With their classic styling, rugged drive trains and good parts availability, it's easy to see why.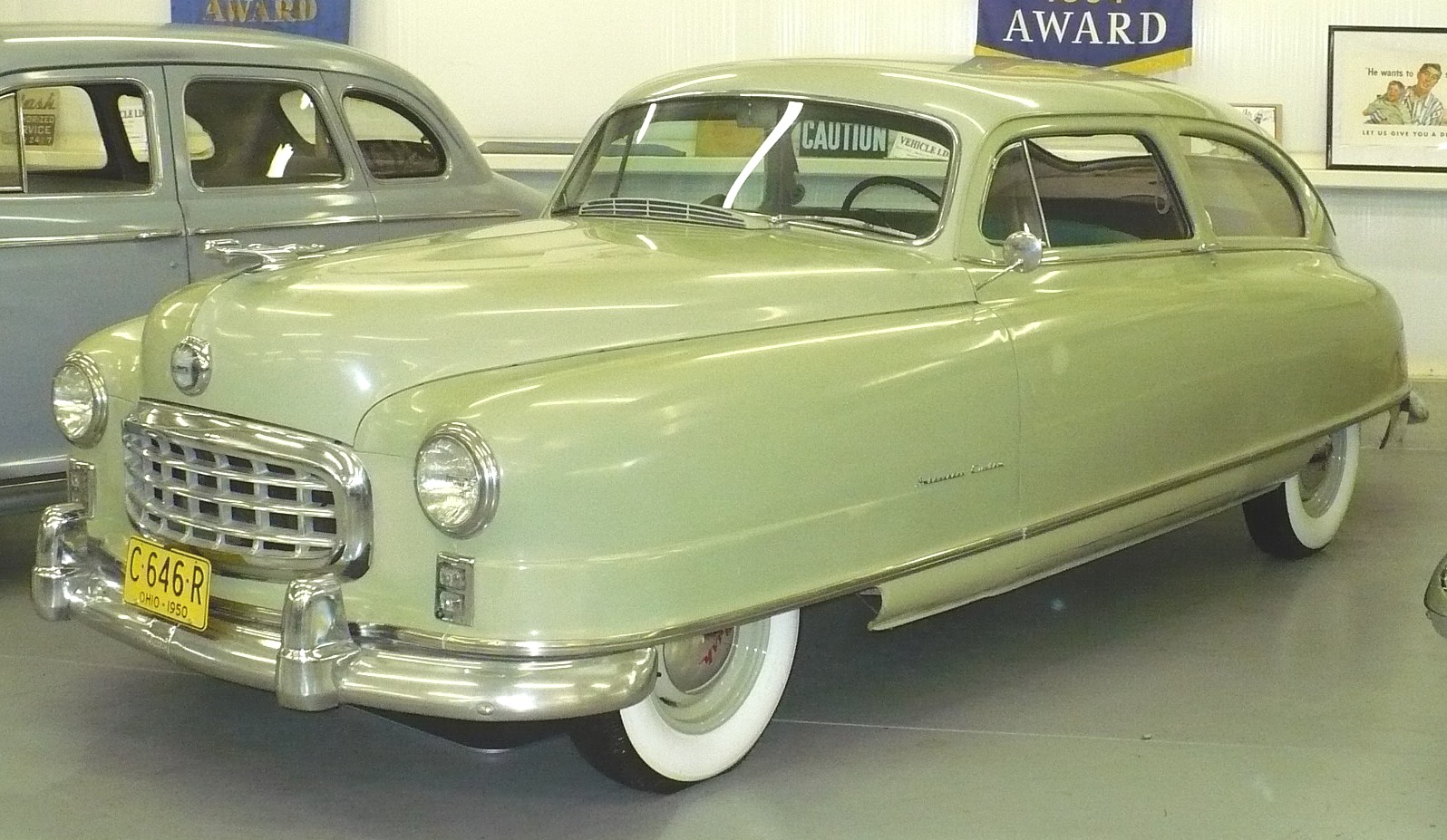 1950 Ambassador Custom
One of only 1,045 Custom two door sedans made in 1950, 234.8 cubic inch overhead valve six cylinder engine with 3 speed transmission and overdrive. Equipped with optional deluxe radio including rear speaker and floor control, right hand reclining seat with factory-installed seat belt (the first used on a U.S. made car!), Weather-Eye heating system, Petty flying lady hood ornament and white wall tires. Nile Green exterior with Hunter's Green interior. This car was manufactured in California at the Nash factory in El Segundo and was in Arizona since 1953, until I bought it and had it transported to Ohio in May of 2011. 1950 Nash production set an all-time record with over 191,000 cars produced. The full size cars from Nash in 1950 were the most aerodynamic built in the U.S., with a coefficient of drag (Cd) of .43.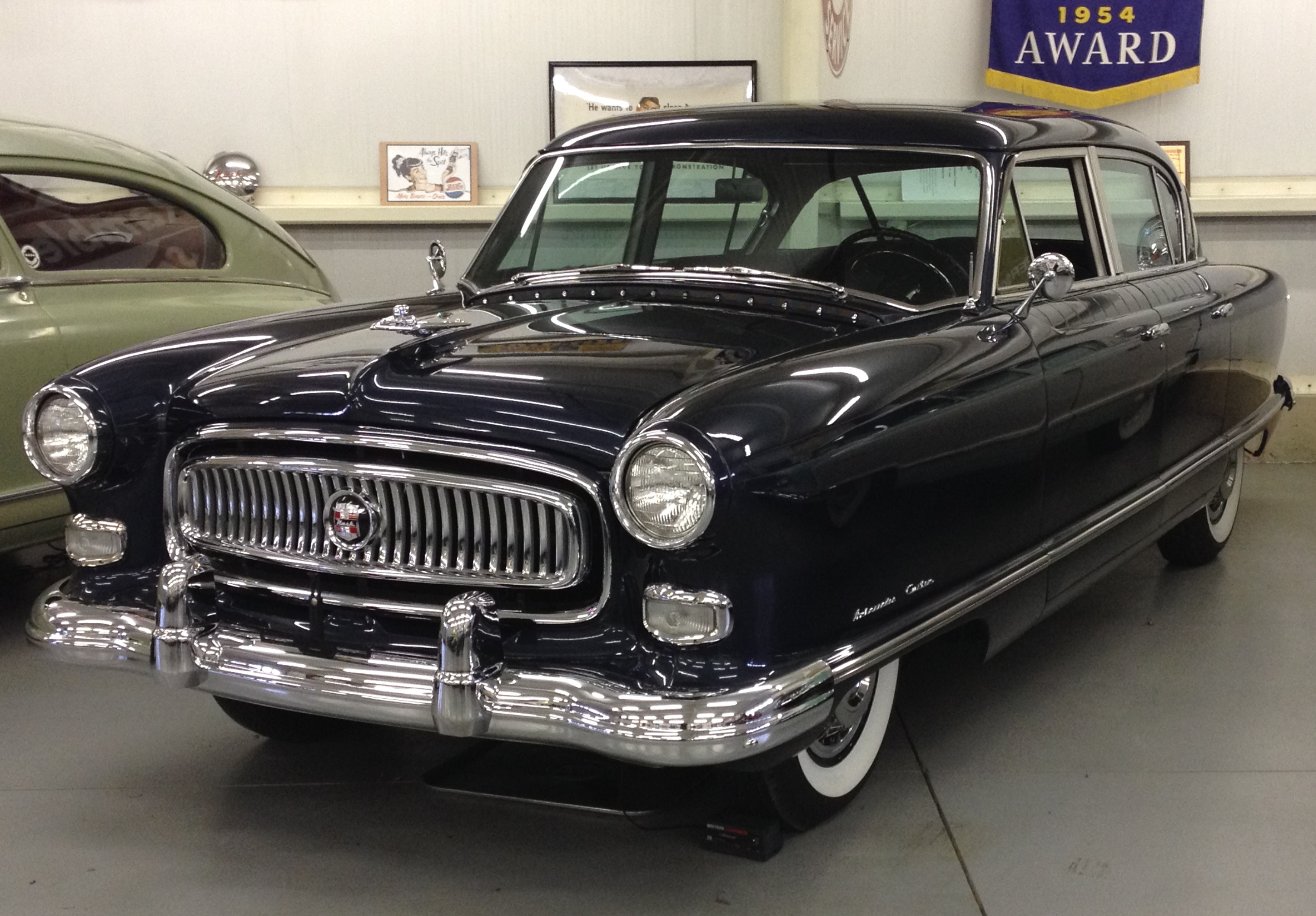 1954 Ambassador Custom Lemans
252.6 overhead valve six with dual side draft carbs, Hydramatic transmission, power steering, power brakes, tinted glass, Duo-coustic radio, Brussels Blue metallic paint, back up lights, dual outside mirrors, center pillar overlays and vent window rain deflectors. Factory installed air conditioning was available on Nashes for the first time in 1954 and this is one of only 2,167 Ambassadors that were ordered with it. This system, fully integrated with the famous Nash Weather-Eye heating system, combines all heating and air conditioning components under the hood and under the dash. This car was bought new in Florida by the late Chuck Hammond's mother and he was in the process of restoring it when he passed away. Thanks to Nash Club members, Gerald White and my father Dick Noel, it was rescued and now has been restored to like new condition. I hope Chuck is smiling down on us and is as happy with the results as I am!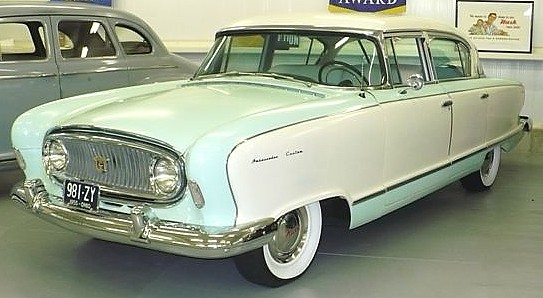 1955 Ambassador Custom Lemans
252.6 overhead valve six with dual side draft carbs, Hydramatic transmission, tinted glass, factory rear wiper, Duo-coustic radio, factory electric antenna, continental kit, two tone paint - Bermuda Green and Snowberry White, ventshades, back up lights and door edge guards. My five brothers and I bought this car for my Dad for Father's Day in 1975 and I drove it from Bill Otto AMC in Winter Haven, FL home to Sebring that year. I bought it from Dad and got it hauled up here to Ohio in '08 — so 34 years later I got to drive it again after a freshening up from its 25 year storage. It's a smooth, powerful road car and at over 18 feet long, with the widest seats and biggest windshield of all American made cars in 1955, it's great out on the Interstate!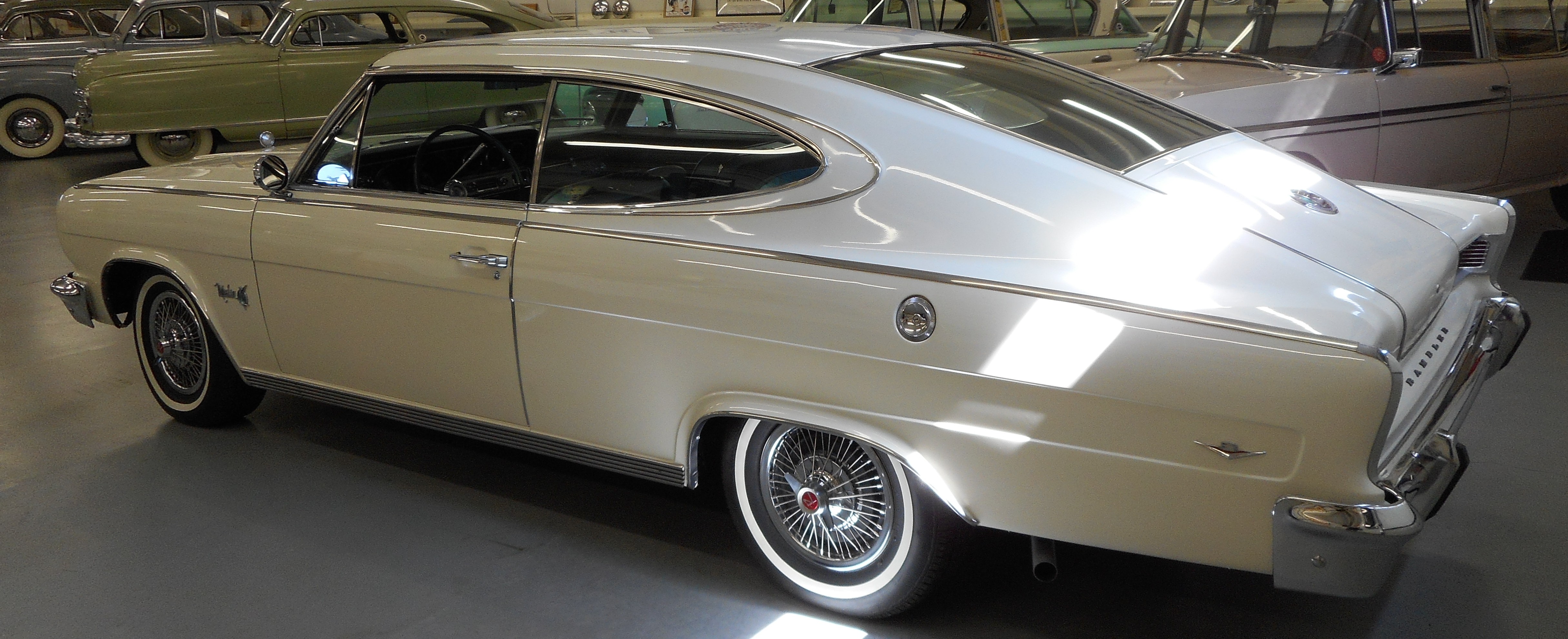 1965 Marlin
327-4V with column shift automatic and Twin-Grip rear axle. A very unusual solid color Marlin
(Frost White) and very well equipped with power steering, power disc brakes, air conditioning,
power windows, tinted glass, AM-FM radio with Vibra-Tone, bucket seats with head rests and front
and rear center armrests, electric wipers, front and rear bumper guards and door edge guards, visibility
group and light group, left hand remote control mirror with a right hand companion mirror and white
wall tires with wire wheel covers. My wife said that I should have a Marlin in my collection and I found
this one in Nevada. It was sold new in Yuma, Arizona and also spent some time in Oregon so not only is
it rust free but all the cast chrome plated parts are unpitted and in excellent condition too. It's a really
classy, fast and comfortable ride!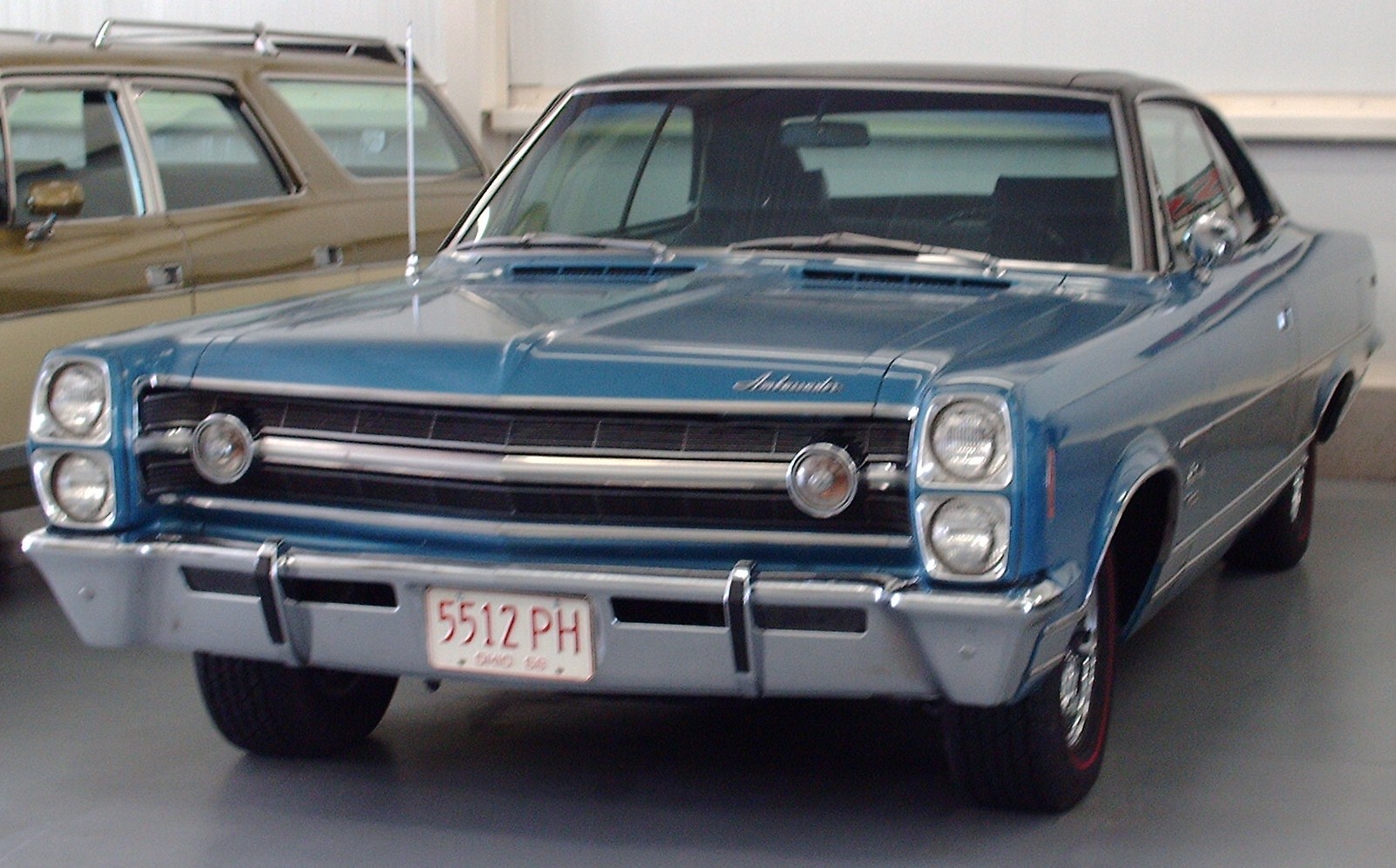 1968 Ambassador SST
343-4V with automatic on the floor, factory air, power steering, power drum brakes, electric wipers, AM-FM radio with floor mounted (factory) 8-track, bucket seats with console and center folding armrest, vinyl top and a LH remote outside mirror. This car was purchased new by the parents of the man that bought my '69 AMX new. It was sold at Grimsley Motors in Wauchula, Florida. It has over 130,000 miles on it, and the interior is near perfect. The paint is faded in places from the wonderful Florida sun, and it has a few dings & dents, but is in really good condition overall. I added the correct '68 AMC Mag-Style wheels (even thougth they were technically not available on the Ambassador that year), and the red line B.F. Goodrich radials. I also added a rear sway bar. It drives out great!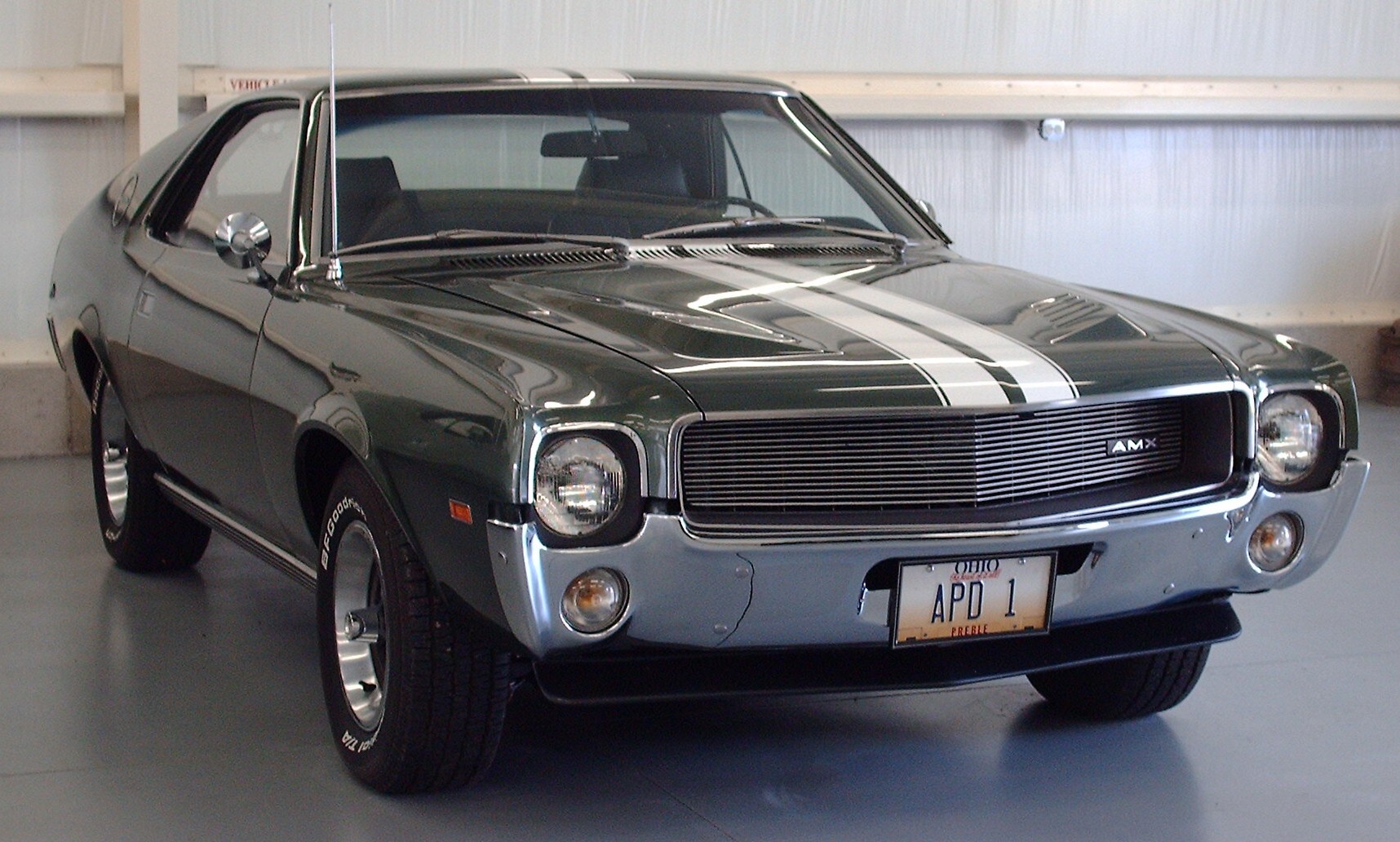 390, four-speed with factory Hurst shifter, Go Pack, AM-FM radio, clock, light group, quick ratio manual steering, Mag-Style wheels, right hand outside mirror and front underbody spoiler. I bought this car in the fall of 1971. It now has over 125,000 miles and was treated to a body, interior, and underhood restoration that was started in October of 2002 and finished in June of 2003. Ten days after finishing it, I drove it to Florida for my 30th high school reunion. I was the only one there with the same car they had in high school. It was a 2,200 mile round trip done in a day and a half down and a day and a half back, and it ran perfectly. It's a blast to drive!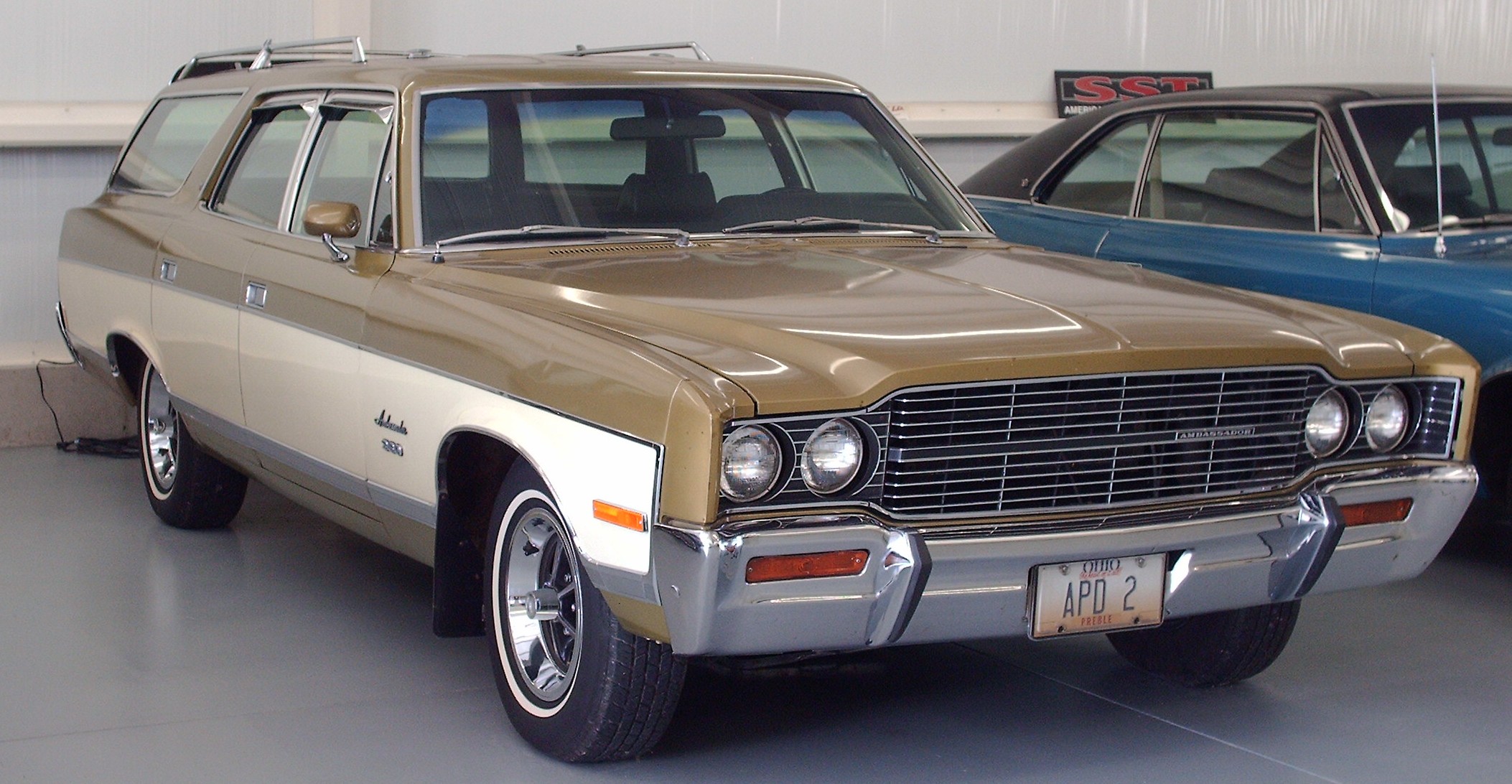 1970 Ambassador DPL
360 (originally 390) with column shift automatic, power steering, tilt column, air conditioning, electric wipers, cruise control, power drum brakes, AM-FM radio, left remote and right companion mirrors, two-tone paint, electric rear window, Mag-Style wheels, roof rack, ventshades, rear window air deflector, auxiliary transmission cooler and Twin-Grip rear axle. I bought this car from Elbert Baggett in 1993 and have put over 20,000 miles on it since. It now has over 121,000 miles on it. It was my main shop vehicle for years and has hauled thousands of pounds of AMC parts all over the eastern U.S. Since I've owned it, I have accumulated all the parts to put the 390 back in it, so it will be back to original eventually. When I'm out on the road, it gets more attention than my AMX!

1971 Matador
304 V8 with column shift automatic. Equipped with factory air conditioning, tinted glass, power steering, power disc brakes, electric wipers, AM radio, remote control left hand mirror with matching right hand mirror, door edge guards, front and rear bumper guards, wire wheel covers, visibility group, light group and a pair of factory license plate frames. It's Limelight Green metallic with a dark green cloth and vinyl interior. This car was sold new by my Dad at D & J Auto Sales & Service in March of '71. When the original owner, Pat Kantor, could no longer drive he sold it back to Dad in June of '97 with 71,360 miles on it. I bought it and drove it here from Florida in March of 2014. It arrived here with 84,687 miles on it. I have all the original paperwork including the original window sticker that shows it was delivered with black wall tires!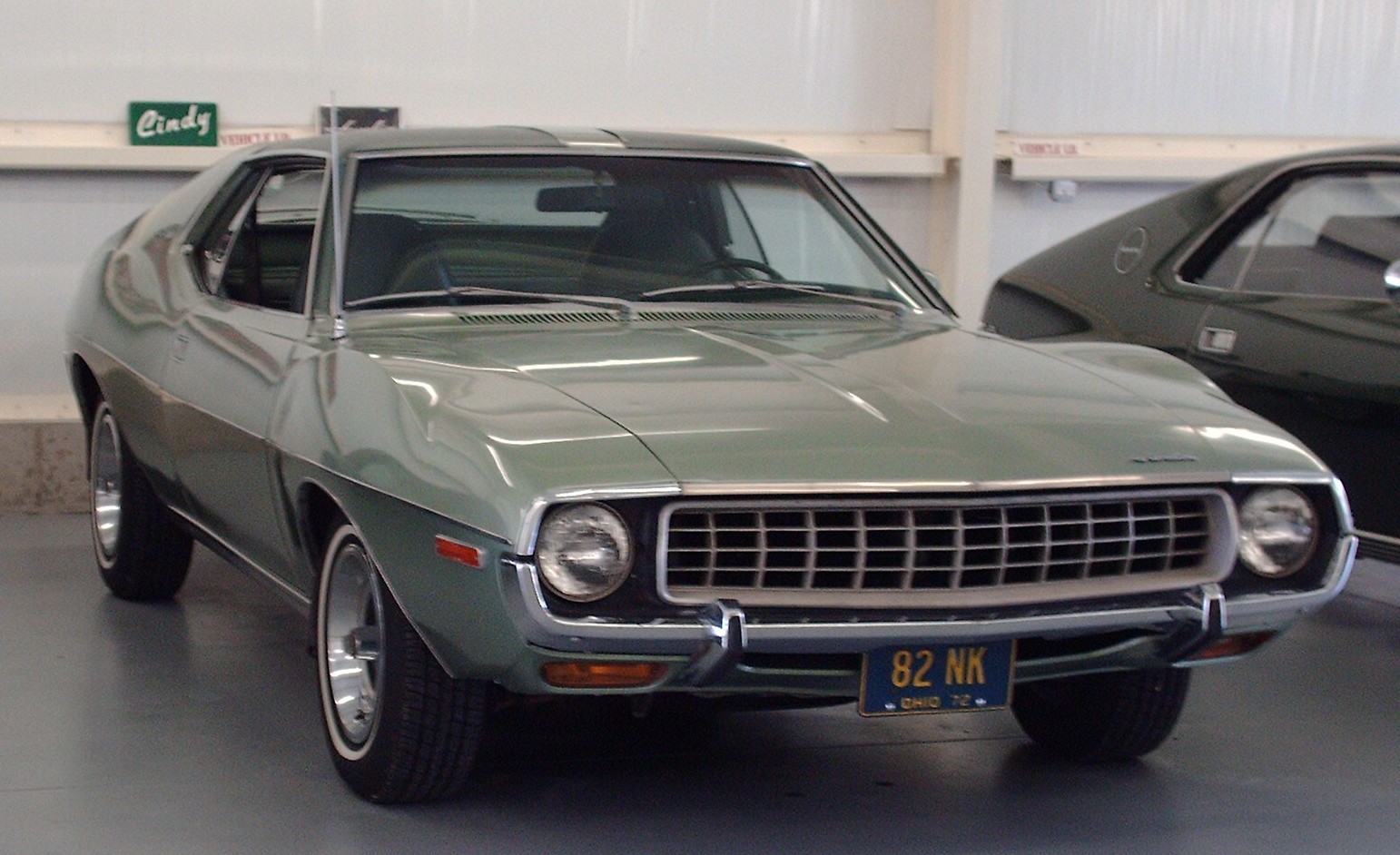 1972 Javelin SST
304 with automatic on the floor, air conditioning, power steering, manual drum brakes, twin canopy vinyl top, stainless steel body side moldings, AM-FM radio, left hand remote control mirror, slot-style wheels and light group. It was sold new at my parents' dealership, D & J Auto Sales & Service in Sebring, FL. and my sister, Cindy, bought it on October 9th, 1977. It's been in the family ever since. It currently has over 112,000 miles and has had no major work done to the engine, transmission or rear axle. Thanks to the two previous owners, Cindy and Dad, it's in great shape and is a great example of a stock, unrestored Javelin. It's the one car in my collection that my wife actually likes to drive.

1976 Pacer X
258-1V with automatic and floor shift, factory air, power steering, power disc brakes, intermittent wipers, 4 speaker AM-FM stereo with 8-track tape player, LH remote control mirror, RH companion mirror, Rally Pak (includes gauge package, tachometer, center console & black leather wrapped steering wheel), light group, aluminum wheels, two tone paint (Alpine White over Brilliant Blue) which includes full body side moldings, heated rear window, rear window wiper/washer, lighted visor vanity mirror, dome/reading lamp, vertical & horizontal bumper guards, and a factory locking gas cap. This car came from Texas and even though it had only 65,000 original miles needed extensive sheet metal work since it was apparently from the Gulf coast. All interior panels were replaced and re-colored. It was treated to a complete ground-up restoration and all work was done in-house with the exception of the plating. It drives beautifully and I think it's one of the best looking Pacers out there!

Return to top of page