ORDERING INFORMATION: Orders may be placed via secure online ordering, telephone, fax, email, or regular mail. When ordering via telephone, if you have visited our web site catalog, you can save time by making note of the part numbers you want to order. If placing an order via fax, email or regular mail, please include a phone number where you can be reached during our regular working hours. Do not send your credit card information via email.
CUSTOMERS OUTSIDE THE U.S.: Due to the difficulties with foreign addresses and incomplete information, we DO require that you place your orders online. Shipping will be quoted once you send an order via our secure shopping cart. No charges are made to your credit card until you approve the shipping charges.
RETURNS, REFUNDS, & EXCHANGES ON NEW PARTS: We offer refunds on all new parts returned within 30 days. A 20% restocking charge will apply. Parts returned for exchange may also be subject to the 20% restocking fee. All merchandise must be returned with a copy of the invoice, in the original package, packed with the same care and in the same condition as when it was shipped to you. Please note that returned merchandise that does not include a copy of the invoice will be considered a gift! No collect or C.O.D. returns will be accepted. Special orders and electrical parts are not returnable.

EXCHANGES ONLY ON USED PARTS: Due to the high cost of labor involved in locating, removing and cleaning, no refunds will be given on used parts. All parts must be returned within 30 days, with no exchanges beyond the 30 day period. All merchandise must be returned with a copy of the invoice, in the original packaging and in the same condition it was shipped to you. No collect or C.O.D. returns will be accepted.

DAMAGED MERCHANDISE: Merchandise is inspected carefully before leaving our warehouse. We do everything possible to pack your order in a manner that assures its safe arrival at your location. We cannot be responsible for any damage incurred after leaving our warehouse. If damage has occurred, immediately notify AMERICAN PARTS DEPOT of receipt of damaged goods and we will instruct you as to the steps which should be taken. Save all original packing material for inspection.

LIMITED WARRANTY: AMERICAN PARTS DEPOT will not be responsible for damages or loss caused by shipping, improper handling or installation, abuse or accidents. We offer only the limited warranty supplied and administered by the manufacturer on new parts. There is no warranty on used parts. We test and inspect all used parts carefully before they leave our warehouse. However, there is no way of knowing when or if a used part will fail. AMERICAN PARTS DEPOT disclaims all other warranties expressed or implied.

PAYMENT: We accept VISA, MasterCard, and Discover. Money orders and checks (personal, company and cashier's) drawn from a U.S. bank are also accepted; however, orders paid by check are held for 20 working days for proper clearance. Only first party checks can be accepted. When paying by money order or check, please include an address and phone number where you can be reached during our regular working hours.

BACKORDERS: Items that are out of stock at the time your order is processed will be backordered, unless you specify "no backorders". As soon as we receive the backordered items, they will be processed immediately, and automatically shipped.

SHIPPING: All of our orders, inside the U.S., ship via UPS Ground, or Postal Flat Rate. Flat Rate is only used on low dollar, non fragile orders. We do offer 3-day, 2-day and overnight delivery. Be aware, however, that the cost for any express delivery is very high. Express delivery orders placed before noon (EST), when possible, will be shipped the same day.

Customers outside the U.S.: When possible, we offer Priority International via the postal service for customers outside the U.S. International orders that are shipped postal, ship every Friday. International orders that are shipped UPS, ship daily. AMERICAN PARTS DEPOT charges a $15.00 fee in addition to the actual shipping charges. This applies to every box in every order that requires a customs form. All international orders require a phone number. Please be aware that there may be other fees involved in getting parts delivered. All import duties, taxes, tariffs, etc. will be the responsibility of the customer, and AMERICAN PARTS DEPOT has no connection to those charges.

The smallest amount the postal service charges is for a one pound package. The bulk of the cost of shipping is in the first pound. We always suggest combining orders to save on shipping costs. Submitting orders with multiple items will make shipping less expensive per piece.

PRICES SUBJECT TO CHANGE WITHOUT NOTICE: Prices and specifications are subject to change without notice due to changes in availability, manufacturer price fluctuations and other factors.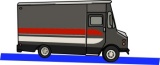 Service Map colors may vary due to differences in hardware and software. This map is a general representation of UPS Ground transit times.
Please take into account that the "transit days" are business days and
do not include the day your order leaves our facility
.